Today, I...
saw
a different side of Carpio. Monday night I stayed with Carmen's family and last night I was at Lorena's. Both of these women cook for the Refuge and have been involved with Christ for the City since before my family was -- they have watched me grow up and are women that I strive to be like. They each have their own story that is far from being over. A little over a year ago, Lorena had tremendous healthy problems due to emotional overeating that lead to extreme obesity (she experienced the El Salvadorian civil war first hand; at twelve-years-old she witnessed a beheading and remembers falling asleep to the sound of gunshots). Because of Costa Rica's national health care, she was able to receive a free gastric bypass surgery and has lost over 150 pounds. This morning, I accompanied her on a daily hour-long walk. Living in Chicago, I love the rare occasions where I leave early enough to see the city awaken. The same goes for La Carpio.
Lorena's government ID before and after her procedure.
realized
that I am here during the worst cold snap in recent Costa Rican memory. Today it dropped to a chilling 53.4 degrees fahrenheit. Everyone's whipping out their scarves and mittens. No joke.
learned
what candied banana tastes like...yum!
smiled
when I thought about our trip to the beach yesterday. Because of all the generous donations I received when raising support for my 9-month long trip, I was able to leave some money for other programs at the Refuge. I allocated a certain chunk for a day trip to the beach for the girls who passed their tests; they waited until I came to visit so I could go with them. We had a
blast
.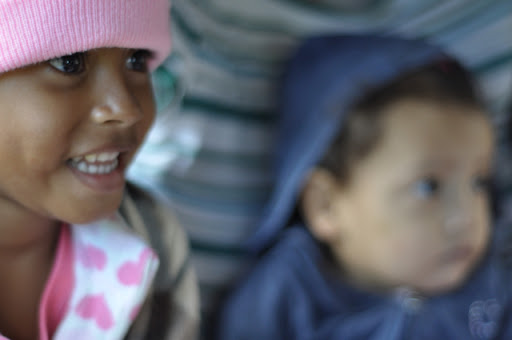 Tanya (5) and Zuyen (1) are the daughters of Ceci and Karen, two of my former students who passed their math exams.
We stopped to see the crocodiles in a river on the way over
(don't worry -- they were far from the beach!)
Cuties.
Ana Cecilia was raped by her step-father until she had Tanya when she was seventeen.
She said that having her daughter was the hardest and best decision of her life.
Although it was freezing in San Jose, the beach was gorgeous and warm.
That girl...
Mercedes is a sixteen-year-old who just learned how to read.
She had never seen the ocean and was literally shaking as she beheld it for the first time.
Lorena held her trembling hands in hers and said, "What do you think of it?"
Mercedes smiled and whispered, "It's just as I've always drawn it."
Yendry (far left) was a new student who had just begun as I was about to leave and has been doing very well academically. Carmen (middle) and Lorena (right) are the two cooks who I always talk about and love to infinity and beyond.
Our bus driver ignored my advice about saying "Uno, dos, tres!" when taking a picture.
This is the result.
- Hannah
PS The quote of the day comes from my favorite Christmas carol.